AME class at BOCES celebrates 'signing day'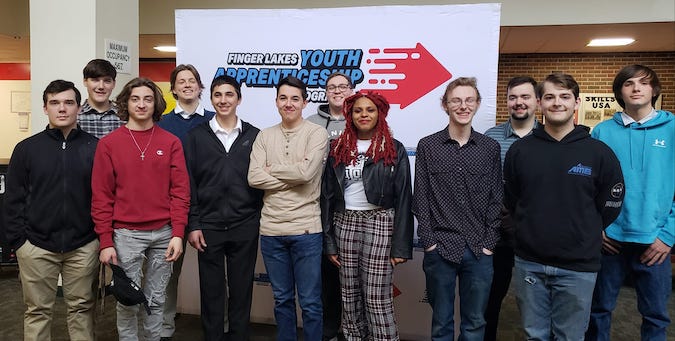 Provided photo: front row from left include Brayden Flynn (Roy-Hart), Peter Kieffer (Newfane), Tim Goerss (Newfane), Vincent Molisani (Albion), Diamond Chandler (Lockport), Conner Dietz (Lockport) and Evan Pease (Lockport). Back row include Tyler Chandler (Roy-Hart), Zack Walker (Roy-Hart), Jaiden Just (Lockport), Anthony Cercone (Lockport) and Gavin Cunningham (Lockport).
Finger Lakes Youth Apprenticeship Program matches students with job shadows, paid co-ops
Press Release, Orleans/Niagara BOCES
MEDINA – Several students in Bill Rakonczay's Advanced Manufacturing and Engineering program were matched up with companies by the Finger Lakes Youth Apprenticeship Program's Signing Day on March 14.
Anthony Cercone, Diamond Chandler, Tyler Chraston, Gavin Cunningham, Conner Dietz, Brayden Flynn, Tim Goerss, Jaiden Just, Peter Kieffer, Vinny Molisani, Evan Pease and Zack Walker were connected with advanced manufacturing companies through matching day events that lead to job shadows and paid co-ops.
"High School students get recognized for sports and where they are going to college," said Mr. Rakonczay.  "I think we need to recognize the students that are in our local workforce. I want to thank all the local employers that opened their doors and allowed my students to do a paid co-op with them. Also thank you to all the parents and guests who came out on a snowy afternoon to support their loved ones. I am extremely proud of all my students."
FLYAP is the first of its kind in New York State and is an essential workforce solution that ensures a robust economic future for Western New York. Companies Custom Laser, E&R Machining Inc., Jeffery Machine, J.W. Burg Machine & Tool, Metal Works, Myles Tool, Niagara Precision, Nuclear Alloys, Nutall Gear and TF Enterprise partnered with the students from Orleans Career and Technical Education Center.
"FLYAP is a one-of-a-kind career exploration program which provides students across the greater Rochester and Finger Lakes region the opportunity to explore and begin a career in advanced manufacturing while still in high school," said Rich Turner, RTMA (Rochester Technology and Manufacturing Association) Director of Workforce Development. "We are connecting students to local companies offering great career opportunities. Events like 'Signing Day' are a great way to celebrate our students, families, educators and businesses as we celebrate one of our region's largest industries."
RTMA Receives Apprenticeship Ambassador Distinction from the United States Department of Labor
RTMA Receives Apprenticeship Ambassador Distinction from the United States Department of Labor Rochester – The Rochester Technology and Manufacturing Association (RTMA) announced it has received the distinction of Apprenticeship Ambassador from the United States Department of Labor (US DOL). The…
Manufacturing Educators' Day
The Rochester Technology and Manufacturing Association in conjunction with the Finger Lakes Youth Apprenticeship Program on March 29, 2023 hosted the first-ever Manufacturing Educators' Day at Monroe Community College. The event attracted nearly 100 teachers, guidance counselors and administrators from…
2023 FYLAP Signing Day for Monroe County
FINGER LAKES YOUTH APPRENTICESHIP PROGRAM HOLDS ANNUAL "SIGNING DAY" CEREMONY AT THE FINGER LAKES WORKFORCE DEVELOPMENT CENTER Dozens of students from schools across Monroe County matched with local advanced manufacturing companies for job shadows and paid co-ops Rochester – The…